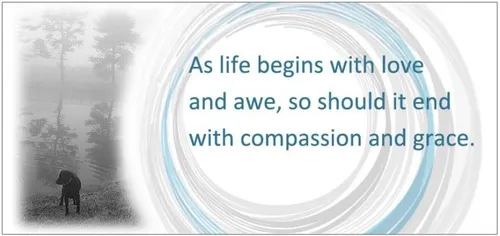 At Hillman Veterinary Clinic, we treat all our patients with compassion and respect. We do our best to help our clients know when the time has come to say good-bye to their beloved companions. When the decision is made, we make the process as painless as possible for both the pet and the owner.
In order to make the pet calm and comfortable during the euthanasia, we first administer a heavy sedative. This gives the owners a chance to visit with their pet as they gently fall asleep. Once the pet is sleeping, we administer an intravenous injection of a euthanasia solution the gently stops the heart and allows the pet to pass peacefully.
Hillman Veterinary Clinic has several options to help you put your pet to their final rest. We can provide biodegradable boxes for at home burial. In partnership with Regency Pet Crematory, we also offer both communal and private cremation.