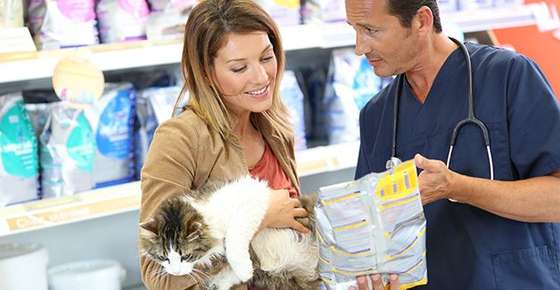 When you visit the grocery or pet store, you can find hundreds, if not thousands, of kinds of dog and cat foods. The advertisements and marketing materials for each claims their food is the best. How can you decide what food to feed to your pet?
Dedicated pet owners will attempt to read labels to help them make a decision on what to feed. This certainly is a good thing to do, but unfortunately, not enough information is required to be on the label to really be able to judge a food. It is important to be aware of some terms and definitions to begin to understand and evaluate each food.
1. When a food is described as "for all life stages," that may sound good, but that actually means that the food is a puppy food. It must meet the needs of the stage with the most requirements, which is the puppy stage, but this food is not made for a senior pet.
2. The guaranteed analysis section looks important but it really tells you almost nothing, because all the levels of protein, fat, etc. are listed by minimums and maximums, not the exact amount of each nutrient.
3. The feeding guides are recommended feeding amounts for an intact (not spayed or neutered) working dog. So for the average couch - potato pet, the amount fed should be decreased by about 30%, or they will become obese.
4. For pet foods, the definition of "chicken" is actually any flesh, muscle, bone, or skin from a chicken. Some foods that have chicken high on the list of ingredients, actually have a lot of bone in it, and therefore too much calcium.
5. The terms "human grade" and "holistic" ingredients have no legal definition, so any pet food, good or bad, can put these on their label.
6. The terms weight management and weight control also have no legal definition, so any food can put this on the label, no matter how many calories are in it. On the other hand, the terms "light " or "lite" do have a legal meaning, and are reduced in calories.
7. The fact that a meat is named first in the list of ingredients is not an indication of how much protein is in the food. Some companies may try to hide how much carbohydrate is in their food by "splitting" ingredients. An example is they may list whole rice, rice hulls, brown rice, and enriched rice separately, so they are not at the top of the list, but they are all rice. Conversely, a meat meal is just meat with the water removed. So for example, a food with lamb meal in the second position may actually have more protein than a food with a meat listed in the first position on the ingredient list.
8. Research has found that all regular commercial foods have cross contamination of ingredients as a result of the way they are manufactured. There are ingredients in the bag that are not on the label. This usually is a problem only if your pet has a food allergy.
9. Realize that claims to be "grain free" are just marketing. Grains can be a good source of nutrients for pets.
Sources:
The Ohio State University Veterinary Medical Center, "Understanding Pet Food Labels." 2014.
FDA, "Pet Food Labels – General." March 2010.